Compliance Checker
Is your product in compliance with all laws and regulatory standards regarding product requirements?
Compliance check at the touch of a button
Compliance refers to the recognition and implementation of all relevant laws as well as internal and external guidelines. Meanwhile, compliance has become a central factor for entrepreneurial success. Noncompliance with normative basic conditions is associated with high liability risks and enormous image damage. The concern is to sensitise employees and ensure the implementation of and adherence to legal and customer-specific specifications.
Our solution: CoChecker
Representation of the worldwide Material Compliance

Clear and reproducible results

Integrated early warning system

Flexible and transparent costs use model instead of licences)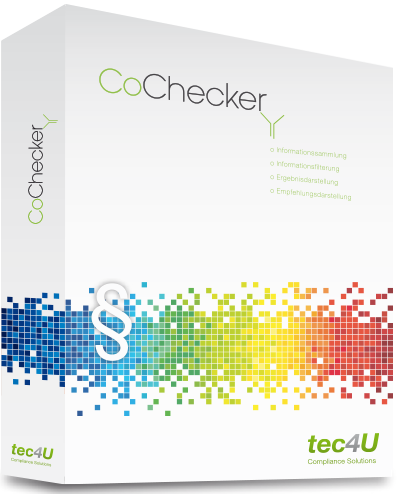 Compliant at all times
Goal of the CoChecker is to make it possible to evaluate a component with respect to its customer-specific/legally-specific material compliance at any time. This applies equally for a compliance assessment projected to the time the product question is to be brought into circulation.
Compliance software for checking material requirements
Within the CoChecker, the material specifications of the automobile industry with respect to the vehicle and the components it contains are processed and made testable. This enables a manufacturer of components to use a software-supported query to check which material requirements above and beyond the currently generally recognised material standard (IMDS and GADSL) apply to its component.
Material Compliance Certificate
Legal requirements, standards, directives and guidelines as well as customer requirements are recorded. You have the option of using the software yourself or contracting to have tec4U carry out the checks. Upon request, you will receive a Material Compliance Certificate confirming product compliance of your materials for all products tested.